We are eagerly planning in-person sessions for all ages this summer! Youth Theatre will look a little different, but the spirit of what we all do together will be the same. We are excited to be back on campus with protocols in place to keep everyone safe. Please note that we will have much smaller enrollment caps and safety measures, like mask-wearing and social distancing, will be in place in order to comply with COVID-19 regulations.
1ST - 3RD GRADE
Creative Drama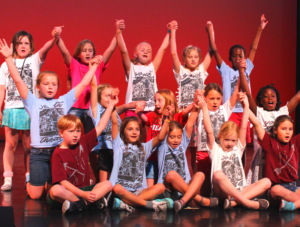 Our two-week camps provide an imaginative outlet for this energetic age. Students develop foundational acting skills by rehearsing a story dramatization throughout the week while rotating through drama, dance, music, and art classes. The final days of camp finish with a recorded sharing of stories and songs for family and friends.
4TH - 8TH GRADE
Acting & Musical Theatre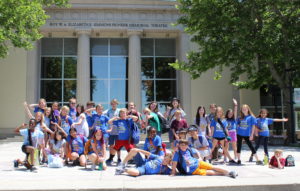 This two-week camp provides an unrivaled theatre experience. A short audition on the first day places students in appropriate roles.  Musical camps rotate through music, acting, and dance activities daily. Acting camps rotate through acting, movement, and elective activities daily. The final day of camp concludes with a recorded performance for family and friends.
Daily Schedule for 1st – 3rd Grade Students
9 am – 9:25 am           Outdoor warmups on the green
9:30 am – 10:25 am    Play Rehearsal
10:30 am – 11:25 am  Elective 1 (e.g., stagecrafts, dance, singing, theatre games)
11:30 am – 12 pm       Lunch (bring your own lunch)
12:05 pm – 1 pm         Elective 2
1:05 pm – 2 pm           Elective 3  
2 pm – 2:45 pm           Play Rehearsal
2:50 pm – 3 pm           Outdoor closing exercise
Daily Schedule for 4th – 12th Grade Students
9 am – 9:25 am           Outdoor warmups on the green
9:30 am – 10:25 am    Company Rehearsal
10:30 am – 11:25 am  Elective 1 (e.g., stage combat, improv, musical theatre dance, acting methods)
11:30 am – 12 pm       Lunch (bring your own lunch)

12:05 pm – 1 pm         Elective 2
1:05 pm – 2:45 pm      Rehearsal
2:50 pm – 3 pm           Outdoor closing exercise
We will not be switching spaces and teachers throughout the day like in our typical summer sessions. Students remain with the same teachers all day and would take the electives those teachers give during that session.
Teachers will switch grade-level groups each session to give students who take multiple sessions opportunities to be directed by different instructors and also be exposed to different electives.
Showcase performances will either be live-streamed and/or recorded from the Theatre Arts Building's outdoor amphitheater or Babcock Theatre without an audience. Filming will take place on the last two days of each session.  There will be no public showcases.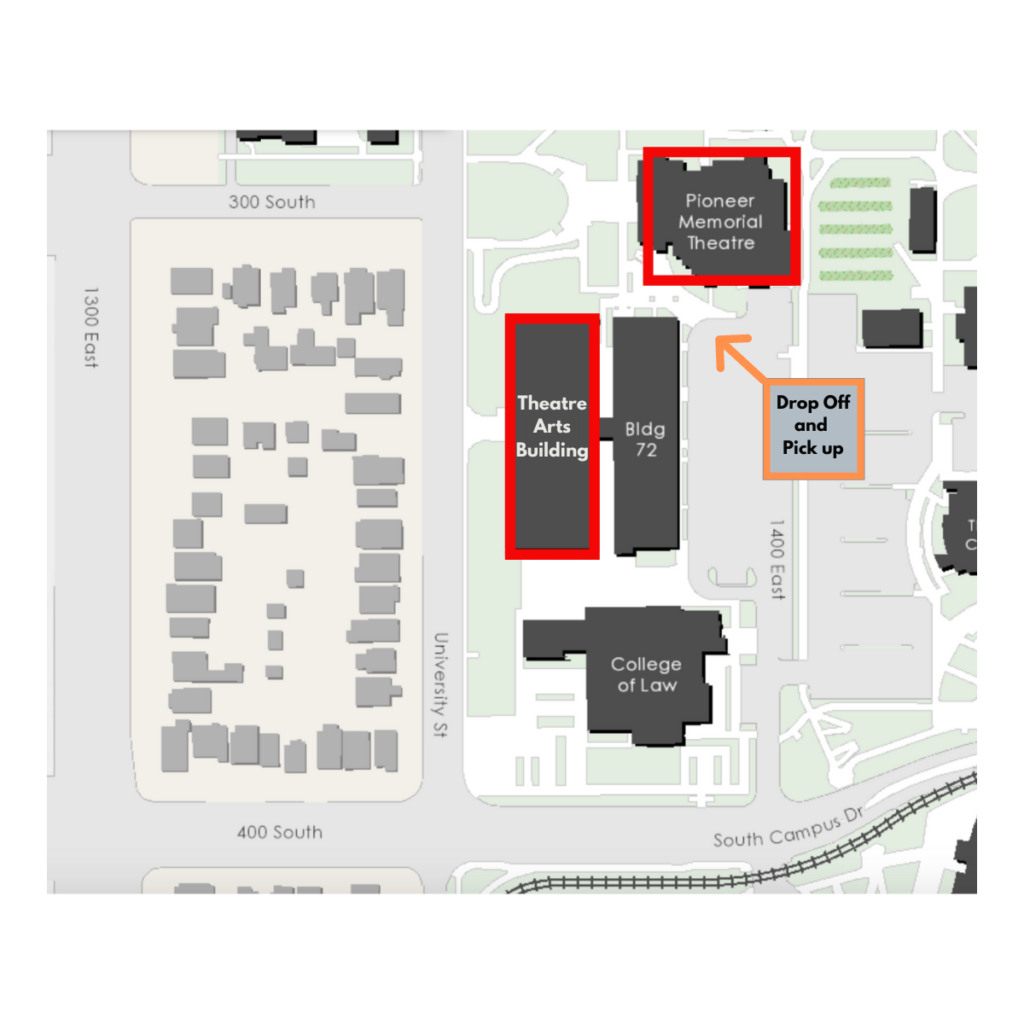 Most of our classes will take place in the Theatre Arts Building (TAB) and the Pioneer Memorial Theatre building (PMT). Depending on space availability, we may also expand to Kingsbury Hall and the Performing Arts Building (PAB) on campus.
Morning dropoff and afternoon pickup will happen in the Pioneer Theatre Parking lot.
Many of our faculty members are returning this summer and they can't wait to work with your students. Assistant teachers of university students from the U or other nearby universities.
Since resources are committed to staffing, show licensing/royalties, and materials well before a program takes place, all tuition deposits and installment payments for all Youth Theatre programs are, generally speaking, non-refundable. To avoid disappointment later, please fully review the following policy details:
Receive a full refund in the form of an account credit to be used toward future YOUTH THEATRE programming – if the cancellation takes place on or before May 1, 2021.
Full refunds will be only in the form of an account credit to be used toward future programming at YOUTH THEATRE.  Refunds will be offered only if YOUTH THEATRE cancels a program for any reason, including low enrollment.
ABOUT PANDEMIC-RELATED PROGRAM CHANGES in 2021: If COVID-19 pandemic-related reasons make it impossible for YOUTH THEATRE to continue in-person instruction (for example, if a shelter-at-home order is issued again by the State of Utah or Salt Lake County) all current programs have been designed to move immediately and seamlessly to an online/virtual format. Please do not register for a YOUTH THEATRE program if you are not willing to continue with a virtual option if that becomes the only way forward.
To cancel your participation in a YOUTH THEATRE program and request your account credit refund, please contact us in writing.
If your child is waitlisted for a session, we will work quickly to let you know whether or not it is likely that they will get a spot in the class.
Being on the waitlist sends us valuable information about classes and age groups that are popular and need additional course offerings.
We will email you BEFORE moving your child off the waitlist and into a session.
It doesn't cost anything to be on the waitlist.
The following are the most up-to-date health & safety policies for our summer program ahead. All recommendations are based upon the guidelines from the University of Utah and developed further through discussions with peer theatre camp providers across the United States. This list is not comprehensive, and may be adjusted at any time based on new recommendations from the University, the CDC,  and the State of Utah.
We will limit capacity based on the space to allow 6 feet of distance between both participants and staff
We will assign a seating chart for any classroom or building space that will create 6 feet of distance and allow for easier contact tracing
We will stagger drop-off and pick-up times to limit large groups sizes arriving at the same time
Our companies will be 10 or fewer children
Participants will stay together in Companies with dedicated staff
There will be no mixing between groups
There will be no mixing between staff of different cohorts
We will require face coverings that meet for all staff and participants at all times
We will designate and communicate the appropriate times to remove face coverings (only designated snack or lunch breaks and when drinking water)
The consequences for not following the face covering requirement will be dismissal from the program.
One of the most important tools in fighting the spread of COVID-19 is still the simple act of proper hand-
washing/sanitization. Youth Theatre will provide ample hand sanitizing stations (indoors and outdoors), as well as appropriate supplies of soap and paper towels in the restrooms and at all sinks.
Staff and students will be trained in hand-washing/sanitizing best practices informed by the CDC. These practices will be posted for reinforcement in restrooms, at hand-sanitization stations, and throughout the Youth Theatre spaces.
Hand-washing/sanitizing will be required after using the restroom and before/after lunch and snack breaks.
Additionally, students and staff will be required to wash/sanitize hands at other regularly scheduled points during the day.

We will enforce frequent hand washing and use of hand sanitizer using CDC and campus guidelines
All high-touch surfaces will be cleaned between classes or activities
We will limit sharing supplies or equipment. Any shared supplies and equipment will be disinfected between uses.*
We will require that participants bring their own meals, snacks, and water bottles
OR
We will stagger snack and lunch breaks and have assigned seating during these times
We will have snack and lunch breaks outdoors
We will not allow participants to share food, utensils, or water bottles
Participants and staff must stay home if sick, had close contact, or been ordered to quarantine
The consequences for participants not following the sick policy will be dismissal from the program.
There will be a daily health screening upon arrival to Youth Theatre.
We will designate a space to isolate any participants that exhibit symptomatic concerns during the program
We will immediately contact parents to pick up participant and they may not return until they no longer exhibit symptoms, or they have proof of a negative COVID test
We will immediately clean and disinfect any space that the sick child had visited
We will follow the University Faculty Response Chart for a positive case with a participant.
More information will be included in upcoming program communications, but for advance planning purposes, we offer the following information at this time. Youth Theatre will be providing one plastic bin with a lid for each student to use during the day. This bin will be collected, sanitized, and ready for use again on the next camp date. This bin will be large enough to carry the following items:
Lunch/Snacks – To reduce risk of virus exposure, please bring all food needed for the entire day.
A mask – for your student's own personal use
A refillable, re-sealable water bottle
The script (once it has been distributed)
Sunglasses or a sun hat (for outdoor time)
Students can bring their cellphones for communicating with parents/caregivers.
Your student will not be permitted to use this phone unless there is an emergency or they need to communicate with someone about a transportation concern.
Please Label Everything. Items left behind that are not labeled may be disposed of as part of the cleaning/sanitizing process.
Please do not bring items that are not listed above. More information about clothing guidelines and other considerations (sunscreen, medications, etc) will be sent before the program begins.